Locomotive 1 van Stichting Stoomtrein Goes Borsele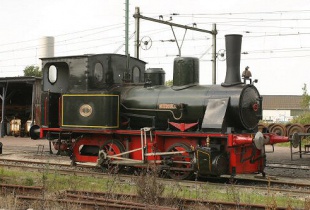 Foto: Ralph. van Meer, Goes, 28 augustus 2005
| | |
| --- | --- |
| Name | Wittouck |
| Traction | Steam |
| Manufacturer | Orenstein en Koppel (O & K), Berlijn (D) |
| Works number | 9511 |
| Year build | 1921 |
| Gauge | 1435 mm |
| Location | Goes |
| Ready for service? | nee |
| Status NRR | C |
| Weight | 22.8 ton |
| Total length | 7,5 m |
| Classification | Bn2t |
| Power | 200 HP (147,0 kW) |
| Max. speed | 30 km/h |
| Traction details | Stoomverdeling Allan-Trick |
| Orig. owners | Deutsche Erdolwerke, spoorbouwbedrijf, CSM Breda, |
| Historical numbers | CSM 10 |
This engine was originally delivered to Deutsche Erdöl Werke in Altenburg.
In 1934 the engine went to the port-railways in Amsterdam and from there on she was transported to the Railway Construction Company (Spoorwegbouwbedrijf) in Utrecht.
They sold the engine to the Central Sugar Company (Centrale Suiker Mij) in Breda in 1950. She was given the number 10 and also received its name "Wittouck".
In 1971 the engine was given to the SGB where she continued work as number 1. During the 90's the engine was considered unusable and was given the status "non active".
At this time the engine is stationed in Goes, awaiting better times.
Links
Data maintained by:
Ralph van Meer, email: destoomtrein(a)home.nl
Steef Janssens, email:
Please substitute (a) for @, this is an anti-spam measure